Part-Time Sales Associate Position Available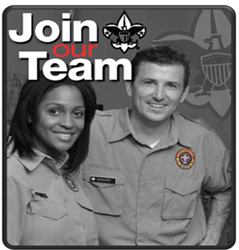 The East Bay Scout Shop has an outstanding opportunity for a motivated, experienced Sales Associate in a fast-paced, results-oriented environment.
Job Overview: Contribute to the successful daily operation of the East Bay Scout Shop by transacting sales, accurate and on-time ADI records, receiving orders, stocking shelves, and maintain a clean customer friendly environment.
The individual in this position will:
Provides excellent customer service in the store and on the phone.
Processes customer orders through the POS system.
Maintains a stocked, organized, and clean store.
Opens and closes the store as directed by management using the prescribed policies and procedures.
Safeguards BSA monies and merchandise.
Qualifications/ Experience: The qualified candidate must have:
Prefer retail experience
Knowledge of Scouting Program
Good Communication Skills
To Apply: Qualified applicants should apply in person at the East Bay Scout Shop 1001 Davis Street, San Leandro, CA. Please contact Linda Gentile, Store Manager, with questions: 510-633-2005.
---
Need to change your email address? Please contact joann.parker@scouting.org
so we can change it in both our scouting system and in our newsletter system.
San Francisco Bay Area Council #028, Boy Scouts of America
1001 Davis St., San Leandro CA 94577-1514
(510) 577-9000 www.sfbac.org