This Scouter Weekly is brought to you by your Friends of Scouting contribution. Issue 8 February 23, 2017
---

ROUNDTABLE
adjective
1. noting or pertaining to a conference, discussion, or deliberation in which each participant has equal status, equal time to present views, etc. roundtable-table discussions.
All leaders are invited to COME TO ROUNDTABLE! Each month great ideas are generated and shared for upcoming unit meetings and themes. Informational flyers are available for local events that will excite your youth, experienced leaders will share what works and what might not work so well in their units so you can learn by experience, get up to the minute info on events like district camporees, spring and summer camp programs .... Roundtable is THE place to be. One evening a month jam packed with informational goodies that can help your unit grow and be a place your youth want to be. At least one adult from your unit should attend Roundtable - you'll be glad you did!
---

2nd ANNUAL FRIENDS OF SCOUTING BREAKFAST
KICKS-OFF A GREAT YEAR OF SCOUTING!
This year the San Francisco Bay Area Council will be hosting our 2nd Annual Friends of Scouting Kick-Off Breakfast on Friday, March 24, 2017 at the Double Tree Newark-Fremont, 39900 Balentine Dr., Newark CA. All Scouters, alumni, friends and community members are welcome to attend and help support Scouting. The cost of the breakfast has been generously underwritten by our sponsors and we ask you the donor to please be prepared to make a Friends of Scouting gift of at least $250 at the breakfast. All donations will be counted towards your unit goal to receive the incentives for your Pack or Troop. Troops achieving their goal will be offered a free 2 night camping experience at either Wente Scout Reservation, Camp Royaneh or Rancho Los Mochos to be redeemed in 2017. Packs will receive neckerchief slides for all members to be presented at the bridging in May 2017.
We invite you to join us that morning and to help us support Scouting and some of the great youth in our council. We do have additional Sponsorship opportunities and Table Host opportunities available. Please contact Joe Barton 510-577-9227 or joe.barton@scouting.org for more information on the breakfast and to learn how to participate.
---

TIGER CUB SAFARI
Join fellow Tigers for an exciting weekend of Safari activities! Archery, swimming, arts and crafts, and tons of fun!!! Tigers who are completing the end of their Tiger year (end of first grade) are eligible to attend. Only 120 Tigers and their partners at each weekend. Basic cost is $135. per Tiger and adult partner. Check out our website for more details, costs, what to bring, etc. at [click here]
OTHER EXCITING CUB OPPORTUNITIES
Mom & Son - Camp Royaneh - May 5-7 or 19-21
Day Camps - Check our website for more information www.sfbac.org
Wolf/Bear Weekend Journey - Rancho Los Mochos - July 14-16 or 21-23
Resident Adventure Camp - Camp Royaneh Wolf/Bear Adventure - July 31-Aug 2 or Aug 7-9
Webelos Adventure - July 31- Aug 5 or Aug 7-12
---

SPRING

Exploration Camp is a fun and exciting daily program that provides the opportunity for boys and girls ages 11-18 to explore hobbies, educational interests and useful social and personal skills during the school breaks. Trained and qualified adult supervision is provided during all program hours at the local Youth Leadership Training Center in San Leandro, a safe learning environment for all ages.
The program utilizes the various Boy Scout Merit Badge topics as its "curriculum" for program activities. Merit Badge requirements can be technical and challenging, so we do not necessarily expect a day-long program to be able to complete a full merit badge.
Location: YLTC, 1001 Davis St., San Leandro CA Program: 9 a.m. - 4 p.m. (check in at 8:45-9 a.m.) Cost: $65 per full day Exploration. Lunch and a water bottle included.
Information about requirements not being covered, as well as prerequisite needs for each merit badge session are included in the registration and on the website. Go to ww.sfbac.org
Exploration Choices for Spring session are:
Monday, April 3: Personal Management, Communications
Tuesday, April 4: Environmental Science, Domestic Citizenship
Wednesday, April 5: Emergency Preparedness, Geology
Thursday, April 6: Automotive Maintenance; Signs, Signals and Codes
Friday, April 7: Climbing, First Aid
SCOUT AND VENTURING ARCHIVE
These articles have been in previous Scouter Weekly editions. You can find further information on them at the links provided.
SWIMMING MERIT BADGE CLASS
Spring Sessions: April 22 or 23, 2017
Morning Session 8 AM - 12 PM (Check-in at 8 AM)
Afternoon Session 1 PM - 5 PM (Check-in at 1 PM)
Click here to register NOW!
SCOUT AND VENTURE TRAINING at NYLT (National Youth Leadership Training)
Details at www.SFBAC-NYLT.org
---

HAT CORE 2017: Basic Backpack Awareness
This course provides the foundation for all other HAT courses. It is open to all registered Scouting adults who have completed the Position Specific Training for Scoutmaster or Assistant Scoutmaster (including the Introduction to Outdoor Leader Skills). It covers the common skills and techniques required for any High Adventure activity and focuses on the skills and knowledge required for planning and leading a successful, safe and enjoyable backpacking trek. Course topics include: Planning & Leadership, Basic Equipment and First Aid, Wilderness Navigation, Food, Wilderness Safety, and Leave No Trace. A HAT (High Adventure Team) number will be issued to adults upon successful completion of this course.
Contact the course director Dick Smith at Date: Saturday & Sunday, March 11 & 12, 2017
Cost: Early registration: $60
Start Date/Time: 3/11/2017 8:00:00 AM
End Date/Time: 3/12/2017 12:00:00 PM
Online Registration Accepted Until: 3/10/2017 3:00:00 PM
To register: click here
Contact Email: janrichard@aol.com
Cost: $60.00 per Participant
After 2/25/2017 a fee of $20.00 will apply.
Activity Location: 2253 Fifth Street, Livermore, CA 94550 US
Directions can be found at: Location Map
---
American Red Cross First Aid & CPR Training
San Francisco Bay Area Council
Date: Saturday, March 4, 2017 - 8 AM to 5 PM (Check-in at 8)
Cost: $85 – course cost includes all Red Cross fees/certification for First Aid with CPR- Infant and CPR/AED- Adult and Child. Lunch will be provided.
Location: SFBAC Office, 1001 Davis St. San Leandro
This course is being offered in partnership with East Bay Regional Park's Lifeguard Service and is open to any registered older Boy Scouts and Adult leaders. Registration is open to troops and individuals. Troop leadership must be provided for troops and individual scouts must be accompanied by a paying adult. Register online (click here)
*Participants must be at least 14 years old if attending this class.
---
---
Stories and Photos WANTED!
Did your Pack have a great outing at a local park? Did your Troop find a great new place to camp? Did someone in your unit save a life or help someone selflessly? Scouting is filled with many true stories of Scouts and Scouters in Action. Stories with or without photos may be submitted all year long. We cannot guarantee publication of any story or photo. If sending only a photo please include a brief description and be sure to include your unit, number, and district. Email to joann.parker@scouting.org
---
Part-Time Sales Associate Position Available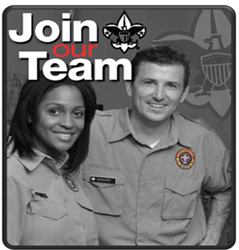 The East Bay Scout Shop has an outstanding opportunity for a motivated, experienced Sales Associate in a fast-paced, results-oriented environment.
Job Overview: Contribute to the successful daily operation of the East Bay Scout Shop by transacting sales, accurate and on-time ADI records, receiving orders, stocking shelves, and maintain a clean customer friendly environment.
The individual in this position will:
Provides excellent customer service in the store and on the phone.
Processes customer orders through the POS system.
Maintains a stocked, organized, and clean store.
Opens and closes the store as directed by management using the prescribed policies and procedures.
Safeguards BSA monies and merchandise.
Qualifications/ Experience: The qualified candidate must have:
Prefer retail experience
Knowledge of Scouting Program
Good Communication Skills
To Apply: Qualified applicants should apply in person at the East Bay Scout Shop 1001 Davis Street, San Leandro, CA. Please contact Linda Gentile, Store Manager, with questions: 510-633-2005.
---
Need to change your email address? Please contact joann.parker@scouting.org
so we can change it in both our scouting system and in our newsletter system.
San Francisco Bay Area Council #028, Boy Scouts of America
1001 Davis St., San Leandro CA 94577-1514
(510) 577-9000 www.sfbac.org