Boy Scout Camping
Summer Camp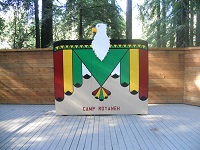 4600 Scanlon Road, Cazadero, CA. 95421
Camp Royaneh is a Nationally Accredited Boy Scout Camp located in the beautiful coastal Redwoods area near Cazadero, in Sonoma County.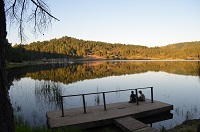 5401 Canyon Road, Willits, CA. 95490
Wente Scout Reservation is a Nationally Accredited Boy Scout camp located near Willits in Mendocino County.
Provisional Camping
Provisional Camping is for Scouts who are unable to attend camp with their Troop or those who wish to attend a differant or extra week of camp. Provisional camping is available each week at Camp Royaneh and Wente Scout Reservation. Scouts will select the camp and week(s) and send in an application with your full fee. All boys must be registered in the Boy Scouts of America and bring a properly completed Annual Health and Medical form. Once arriving at camp the Scouts will be checked in on Sunday from 1-3 pm and paired with another Troop at camp. Those wishing to be paired with a Troop from their area before the camp week may contact the council camping department after submitting their Provisional Camper application to enquire about Troops from the area going to camp.
Contact Emily @ (510) 577-9218 for more information.

During the Spring, Summer, Fall and Winter Breaks @ Youth Leadership Training Center in San Leandro. Full day hobby, personal interest and life-skill sessions for girls and boys ages 11-18. Sessions utilize the various Boy Scout Merit Badge's and currently registered Boy Scouts may be able to complete requirements toward the corresponding Merit badge that is worked on.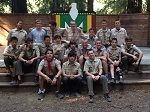 Held in the first week of Summer at Camp Royaneh, Eagle Requirement is a special provisional scout summer camp experiance focusing on the merit badges required for Eagle. Even though the focus of the camp is advancement there will be opportunities for many other activities and a few other merit badges as well.
There are numorous opportunities for Boy Scouts to participate in Shooting Sports throughout the year. From the relaxed atmposphere of shooting sports days where Scouts can practice at their leisure, to Shooting Sports Merit Badge days, where Scouts pick one discipline to work on, to Shooting Sports Weekend where Scouts rotate through every Shooting Discipline during a weekend campout. Click to find out more information on Shooting Sports activities.
The Achewon Nimat Lodge of the Order of the Arrow invites all Troops, Crews, and Ships to this exciting outing in the snowcapped Sierra Mountains. Fun and games in the snow await you.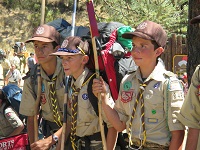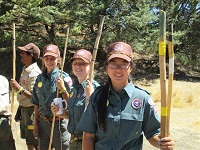 Session 1: 1 wk - June 12-17 @ Rancho Los Mochos
Session 2: 1 wk - June 18-25 @ Rancho Los Mochos
Session 3: 3 wkds - Sept 16-17, Sept 22-24 and Oct 6-8 @ Rancho Los Mochos
National Youth Leadership Training (NYLT) is a high energy week of fun activities including advanced leadership training, outdoor skills, and team-building. NYLT is open to Venturing Scouts as well as Boy Scouts who are First Class, 13 years of age or completed 7th grade. Sign-up early.