Golden Gate : Home
---
 DISTRICT ROUNDTABLE NIGHT
7:00 PM to 8:30 PM
The monthly RT's are still at West Portal Lutheran Church, Parish Hall (Downstairs from main Church level), 200 Sloat Blvd.
Next Roundtable shall be the 21st. of April
COME SEE THE NEW 2015 PROGRAM CHANGES 
---
INTRODUCTION TO OUTDOOR LEADERSHIP SKILLS
(ALSO KNOWN AS IOLS TRAINING)

APRIL 25 - 26, 2015
---
 2015
Flag Planting
Presidio, San Francisco
Saturday, May 23, 2015
 SCOUTING AND SCHOOLS
PARTNERS IN STEM
SCIENCE:TECHNOLOGY:ENGINEERING:MATHEMATICS
For more info and brochures to download:
---
Unit Locator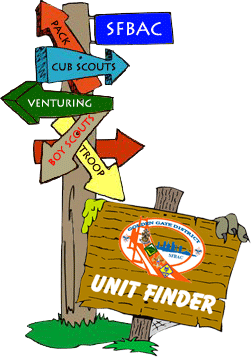 Map Finder- Golden Gate Packs
---
RESOURCE STEWARDSHIP SCOUT RANGER PROGRAM
This is a community services based program that invites Scouts to participate in educational programs and volunteer stewardship projects at National Parks site.
Scout Ranger Brochure
National Park Service Website:
or contact Park Ranger Marcus Combs at:
---
Please register your service hours after your Unit has participated in a community service project, District service project, (e.g.Flag Planting and Scouting for Food) or an individual Scout performing a service project on behalf of the Boy Scouts of America Scouting program within your Unit.
 The 'Flag Planting Day' in May, and The 'Scouting for Food Drive' in November  both qualify for community service hours that your Unit can register.
 To register your hours, you will need a Unit ID number and to register your Unit online at:
First time user instructions:
---
Adult Volunteer Advancement Program

Please review all available award square knots to see if you or fellow adult leader in your Unit qualifies for a Square Knot.
If you or a fellow leader qualify, download the form for the respected square knot award, fill out the information and submit to the District Advancement Chair.
Qualification forms are available at, http://www.boyscouttrail.com/square-knots.asp
Once you fill out the form, submit to the District Executive, Tom Kenney or the District Advancement Chair, Barry Dekovic.
If you would like to hand deliver the form, please bring to the next Roundtable night on 3rd Tuesday., at West Portal Lutheran Church, 7:00PM.
Our you may mail it to the Council Office:
Tom Kenney
Golden Gate District SFBAC
1001 Davis Street
San Leandro, CA 94577 
---
District Calendar:

Please note: The calendar is dynamic, so you will have to return daily to view the latest updates to scheduled events or newly posted events.
---
Contact: