Climbing
The Rock @ Youth Leadership Training Center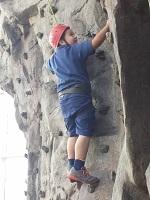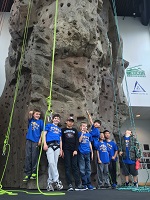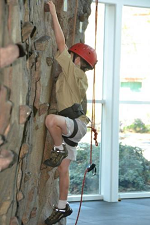 Located at the Youth Leadership Training Center in San Leandro, The Rock is a 32-foot natural looking rock with numerous routes to climb. Climbing routes vary in difficulty so everyone can have fun no matter what their experiance level is.
Unit Climbs:
Units may make a reservation to come and climb for a 2 hour session. Units should come prepared with adults who are willing to learn and able to belay climbers. Instruction on belaying will be provided at the start of your climb. Cub Scout units must provide adult belayers as Cub Scouts cannot belay each other. Boy Scouts, Venture Scouts and Varsity Scouts may learn to belay.
Scouting Groups - $12 per person with a minumum of 10 climbers.
*$50 non-refundable deposit must be submitted to reserve your session. Please mail a check to our office (address above, c/o Michelle Behrendt) or call 510-577-9214 to make a credit card payment.
Click here for the Climbing Reservation Request Form
Climbing Sessions will be available on the following dates:
Sunday Mar 11 - 9-11 am, 11-1 pm, 2-4 pm
*Those times crossed out have been reserved. Ex. 9 am - 11 am
For more infomation and to schedule a climb, contact Michelle Behrendt at (510) 577-9214 or michelle.behrendt@scouting.org
---
Climbing Merit Badge @ YLTC
The Climbing Merit badge is offered as part of Exploration Camp during all school holiday breaks.
Those Troops interested in doing a Climbing Merit Badge session for 8 boys or more may contact us to set up a session. The Climbing Merit Badge requires at least 6 hours of time to complete requirements, about 3 of which are classroom safety learning and knots and about 3 (or more) hours on practical skills in the Rock climbing area.
Email michelle.behrendt@scouting.org to set up your Climbing Merit badge session for your Troop.
---
COPE @ Camp Royaneh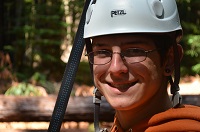 Available for use during the Boy Scout Summer Camp season, the COPE course is a great opportunity for Boy Scouts to participate in High Adventure activities with numourus high and low COPE challenges as well as a zip line.
---
Rock Climbing @ Wente Scout Reservation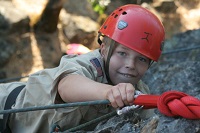 A natural, outdoor climbing site, the Climbing program area is open during the Boy Scout Summer camp season.
---
Climbing Equipment Rental
Does your Troop, Crew or Team want to go climbing at an outdoor site? The San Fransicso Bay Area Council has Climbing equipment available for rental to Boy Scout, Venturing Scout and Varsity Scout units.
Equipment rental includes climbing ropes, ATC belay device, carabiners, harnesses, helmets and more. A Valid Credit/Debit Card must be on file during Rental in case of equipment loss or damage. Equipment MUST be checked out and in by a certified BSA Climbing Instructor Level 1 or 2.
If units do not have access to an adult with BSA Climbing Instructor Certification, it is possible member/s of the volunteer SFBAC Climbing Committee may be willing to go with your unit to support a climbing trip. Contact Michelle at (510) 577-9214 or michelle.behrendt@scouting.org with your request to reach out to Climbing Instructors about planning a trip.
---
---
BSA Climbing Instructor Certification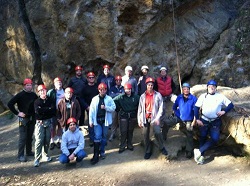 Any Unit planning to have a climbing outing, must have at least one certified adult.
Next Course: TBD
---
SFBAC Climbing Committee
Interested in SFBAC Climbing? Volunteers are always needed and welcome for all our Climbing programs. Those interested in helping with any of the above programs and/or becoming a Climbing Committee member should contact Michelle at (510) 577-9214 or michelle.behrendt@scouting.org to be added to the mailing list.