The Training Patch Program
When you commit to begin your training, you will be entitled to the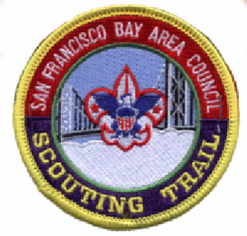 "Scouting Trail" 3" patch that is the hub of the program. These may be purchased at your training event or from the East Bay Scout Shop.
As you attend other training sessions, either for youth or adults, you earn the segment specific for that course that goes around (and around and around) the outside of the 3" center patch.
The segments are available at the training you attend or for $1 each at the reception desk in the lobby of the SFBAC council office. They are not available at the East Bay Scout Shop.
Available to adults:
This is Scouting

(New Leader Essentials)

Tiger Leader Specific

Den Leader Specific
(Wolf & Bear Leaders)

Webelos Leader Specific

Cubmaster Specific

Pack Committee Specific

BALOO

Webelos Leader Outdoor Training

Pack Trainer

Scoutmaster Specific

Introduction to Outdoor Leader Skills

Troop Committee Challenge

Merit Badge Counselor

Varsity Coach Specific

Venturing Advisor Specific

Commissioner Specific or Roundtable Commissioner

District Committee Workshop

Wood Badge

University of Scouting

Youth Protection

HAT Basic Backpacking

HAT Wilderness First Aid

HAT RE-Boot

HAT Snow Camping

Trainer Development Conference

Safety Afloat

Safe Swim Defense

Order of the Arrow Lodge Leadership Development

Order of the Arrow Winter Awareness Staff

Patrol Leader Fundamentals Staff

NYLT Staff

Leave No Trace
Available to Youth
| | | | |
| --- | --- | --- | --- |
| | | | |
| Troop Junior Leader Training | Patrol Leader Fundamentals | NYLT | Den Chief Training |
| | | | |
| Order of the Arrow Winter Awareness | Order of the Arrow Lodge Leadership Development | Safe Swim Defense | Safety Afloat |
| | | | |
| Youth Protection | The Fundamentals of Training | HAT Basic Backpacking | Weather Hazards |